Category Archives:
Space
Austrian daredevil Felix Baumgartner became the first man to break the sound barrier in a record-shattering, death-defying freefall jump on Sunday from the edge of space.
The 43-year-old leapt from a capsule more than 39km above the Earth, reaching a top speed of 1,342kmh, or 1.24 times the speed of sound, according to organizers.
The veteran skydiver was in freefall for four minutes and 20 seconds before opening his red and white parachute and floating down to the desert in the US state of New Mexico, said Red Bull Stratos mission record keeper Brian Utley.
Mission control erupted in cheers as Baumgartner sprung from the capsule hoisted aloft by a giant helium-filled balloon to an altitude of 39,044m, even higher than expected. "I think 20 tons have fallen from my shoulders. I prepared for this for seven years," he told German-language ServusTV in Austria in his first interview after the leap.
This was literally one of the the coolest things I have ever seen in my life. Awesome. Just awesome. Bravo Mr Baumgartner
"Sometimes, you have to get up really high, to see how small you are. I'm going home now."
– Felix Baumgartner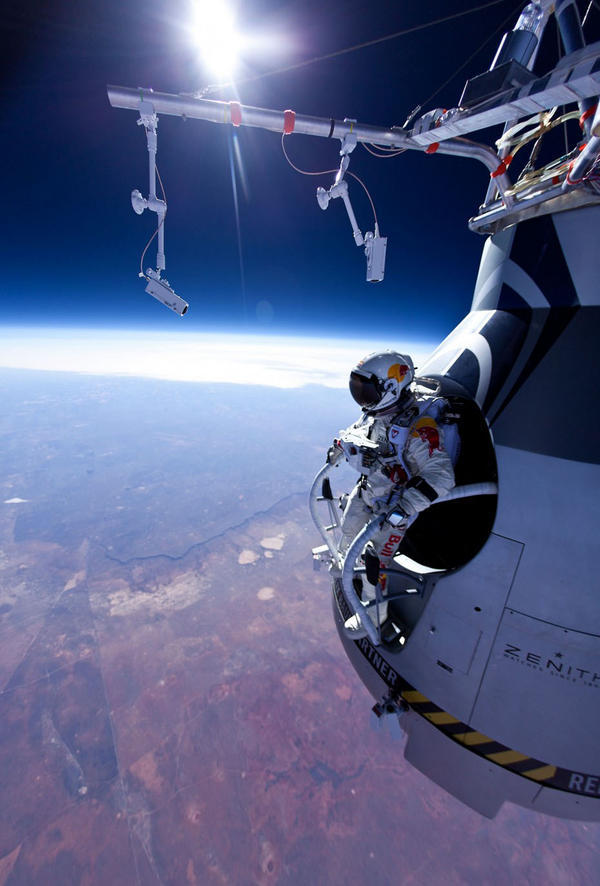 A newly released photo mosaic from NASA's Mars rover Curiosity reveals the huge robot and its exotic Red Planet landing site in crisp detail.
Curiosity snapped the high-resolution self-portrait with its navigation cameras on the night of Aug. 7, just two days after it touched down inside Mars' huge Gale Crater. NASA released the image — which is composed of 20 full-frame navcam shots — during a press conference Friday (Aug. 17).
"What's really exciting about this is that we see the rover — a self-portrait, with the rim of Gale Crater in the background," said Curiosity chief scientist John Grotzinger, a geologist at Caltech in Pasadena.
This is a behind the scenes look a the tension, anticipation and exhilaration experienced by scientists and engineers at NASA's Jet Propulsion Laboratory in Pasadena, California on August 5, 2012, during the Curiosity rover's harrowing descent through the Martian atmosphere — known as "Seven Minutes of Terror."
News of Curiosity's safe touchdown following the 13-thousand-to-zero-mile-an-hour descent to the Red Planet's surface brought elation and high-fives all around the world. Curiosity begins a two-year investigation of whether Mars is or ever was capable of supporting microbial life.
This image shows one of the first views from NASA's Curiosity rover, which landed on Mars the evening of Aug. 5 PDT (early morning hours Aug. 6 EDT). It was taken through a "fisheye" wide-angle lens on one of the rover's Hazard-Avoidance cameras. These engineering cameras are located at the rover's base. As planned, the early images are lower resolution. Larger color images are expected later in the week when the rover's mast, carrying high-resolution cameras, is deployed. Image credit: NASA/JPL-Caltech